MoTec Races Towards Efficiency With Odoo


Company Name: MoTec Middle East
Location: Dubai, UAE
Industry: Automotive, ECUs, Manufacturing
Platform Main Apps Implemented: CRM, Invoicing, Sales, Website, Purchase, Accounting, Inventory
Partner name: OAKLAND - odooERP.ae
Company Size: 25+
Implementation time: 3 months
About MoTec Middle East
With its distinctive gold ECUs and a philosophy of engineering excellence, MoTeC has grown from a modest home workshop in the late 1980s to a world leader in motorsport technology. Now boasting a network of over two hundred authorized dealers worldwide, this innovative Australian brand has become synonymous with motor racing success in almost every category across the globe. The Middle East office, located in Dubai, is in charge of clients found across the UAE, Kuwait, Bahrain, Saudi Arabia, Oman, and Qatar. The team of engineers, mechanics, electricians, graphic designers, and sales all embrace and innovate new technologies to give their Middle Eastern customer the next level of car performance.

Fuel Business Management With Odoo As one of the most respected brands in aftermarket engine management, data logging hardware, color displays, and power distribution solutions, MoTec required a software tool that would be able to accommodate all the different business parts and allow for smooth management across all Middle East distribution points. At first the sales manager, and face of MoTec Middle East, Brigita was utilizing Excel. She spent additional 2-3 hours daily trying to reconcile invoices, track orders and client information, until a financial advisor in the company recommended her to take on Odoo.
At first, Brigita was skeptical. She had used an ERP system in her previous job, and was worried that Odoo too would be complex to integrate and manage. Following the first meeting with Odoo's Gold Partner Oakland, any doubt she had went away. They discussed all the Apps that MoTec would require to run their business successfully, and the implementation began. Odoo was able to deliver on all the expectations that the team had. Apart from selling part that require rigorous inventory tracking, MoTec is also a shop, where tracking employees times, customers orders, and company sales is a must. From the moment a customer enters the shop, to the parts required being added into the job cart and assigned to mechanics for implementation, Odoo's software manages the full process.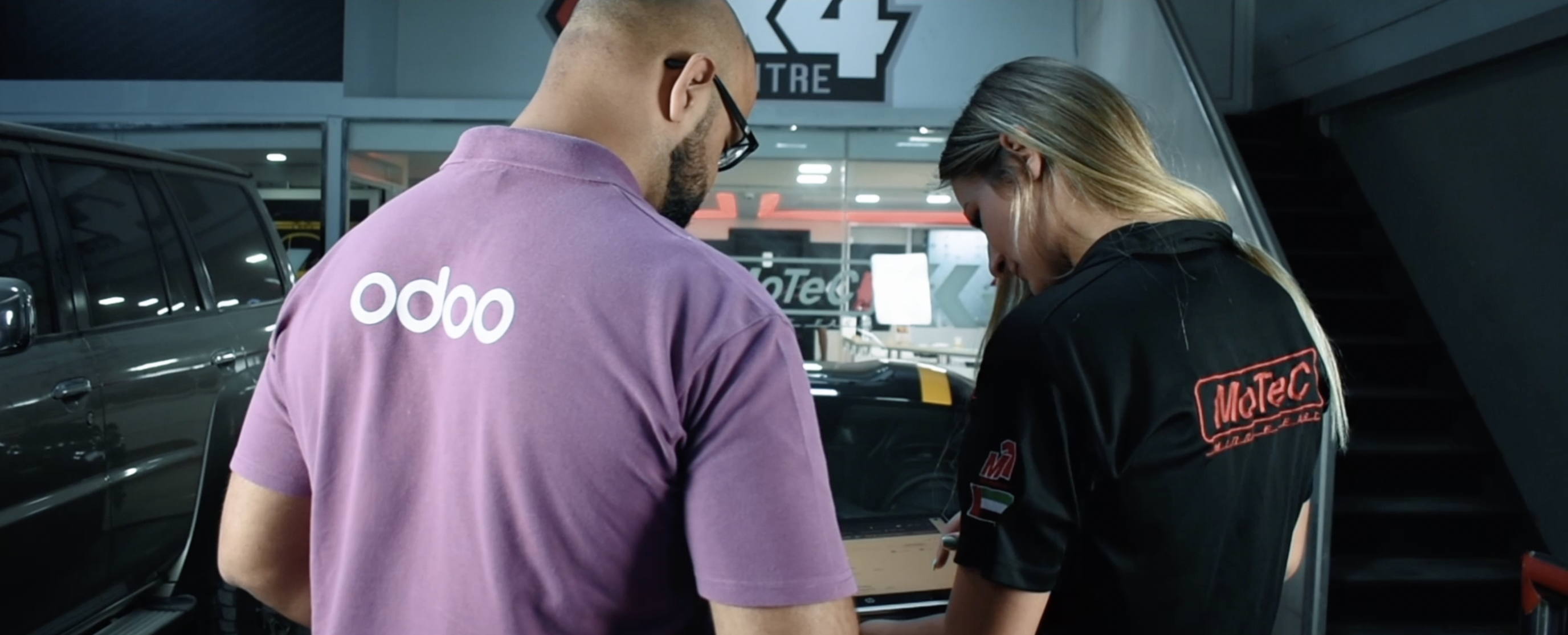 Keeping Track Of Their Parts
In the world of motorsports, keeping track of all the parts pertaining to special cars, is crucial. At MoTec every single part produced carries a unique serial number. These serial numbers have to be tracked along the part's full lifecycle. If a computer or dash gets lost or stolen, the team at MoTec needs to be able to quickly and efficiently report it and find out the source location. With serial numbers being extremely important in this industry, Odoo's software was able to help the team track every unique serial number. If a customer would call to find out where an ECU came from, using the serial number tracking system on Odoo, Brigita would be able to answer in just a few clicks.

Drifting Into Success
When a diverse team, working on different projects across different parts of the shop and garage, need to communicate in one place then Odoo's Notes app becomes very handy. Lowering the risk of misunderstandings in conflicts amongst the team, the Notes app allows for every single meeting and decision to be recorded and accounted for. The Sales app is used daily allowing to turn quotations into job orders swiftly. The job order tracks all the necessary information the customer has requested, providing complete transparency for mechanics to meet the requirements, timelines and costs. In turn, the Inventory app keeps track of the parts availability and is able to forecast further requirements. The Project app helps the team prioritize their time regarding any job, ensuring timelines are met at the cost that was agreed. The Accounting app is crucial for the brand to keep track of their profits, allowing for reports to be generated and shared in seconds. With such success found in all these apps, Brigita is excited to embark on a new efficiency journey, and looking forward to installing the different HR apps available for better employee management.
The Fast and Efficient
Finally gaining back 10 hours of precious time a week, allowed Brigita to focus on sales, customer service, and company profit. Odoo has optimized operations and shed light on any inefficiently that needs to be dealt with. The sales team is able to reduce prices or augment them as needed, in the workshop the processes have evolved significantly as realtime records are kept of all decisions made, and the overall organization and structure brought to the team allowed for real tangible results. With stress levels going down, the team can ensure optimal business performance, and rev up their success.
"It's a beautiful system. Odoo made my life so much easier at work! I have much more free time to focus on things that truly matter to the business.
Everything is there, everything is done and calculated for me. It simplified our business." - Brigita